Laigutang yinpu 賴古堂印譜 is a seal album of the early Qing period 清 (1644-1911) presenting objects of the collection of Zhou Lianggong 周亮工 (1612-1672), courtesy name Yuanliang 元亮, style Jianzhai 減齋, Lianggong 諒工 or Jianzhai 減齋 (Xianzhai 緘齋), style Bo'an 伯安, Shipu 适圃, Tao'an 陶庵, Liseng 笠僧, Wugong 瞀公, Liyuan 櫟園, Lilao 櫟老 or Changmeigong 長眉公, from Xiangfu 祥符 (today part of Kaifeng 開封), Henan. He obtained the jinshi degree in 1640 and reached the official position of censor (yushi 御史). After the foundation of the Qing dynasty, he was surveillance commissioner (anchashi 按察使) of the province of Fujian, and then Vice Minister of Revenue (hubu shilang 户部侍郎). Zhou was famous for his poetry and landscape painting, but also as a great collector of antiques. He wrote the biographical book Yinrenzhuan 印人傳 and the essay collection Chidu xinchao 尺牘新鈔, and compiled the catalogues Laigutang canghua 賴古堂藏畫 and Laigutang cangyin 賴古堂藏印. His collected writings are called Laigutang wenji 賴古堂文集.
Figure 1. Seal imprints from the Laigutang yinpu 賴古堂印譜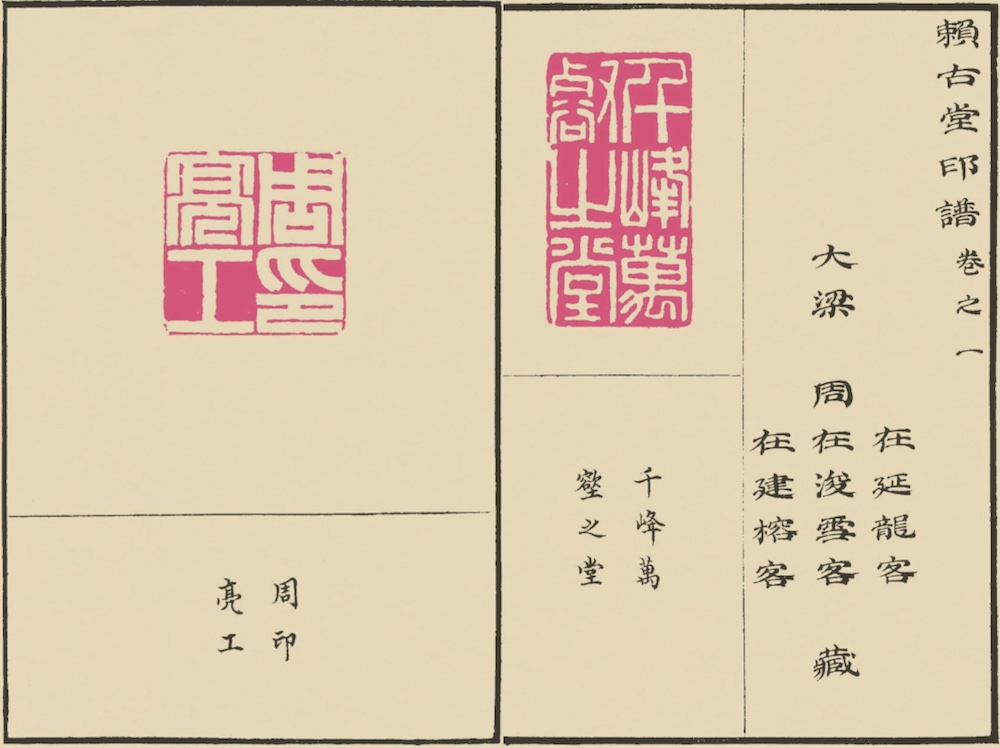 Zhonghua zaizao shanben 中華再造善本 edition.
The album itself was compiled after Zhou's passing away on the initiative of Zhou Zaijun 周在浚 (fl. 1675), Zhou Zaiyan 周在延, and Zhou Zaijian 周在建. Each page of the 4 volumes shows between one and six imprints of seals, with a total number of 1,550 reproductions. Each seal-script text is translated into regular script. The compilers also added information on the material of the seal itself and the name of the artist or seal carver. The book was finished in 1667.
Sources:
Meng Qingxing 孟慶星 (2018). "Zhang Zhen yu Laigutang yinpu 張貞與《賴古堂印譜》", Xiling yicong 西泠藝叢, 2018 (12): 60-62.
Ouyang Moyi 歐陽摩一 (2014). "Zhou Lianggong Laigutang yinpu tanxi 周亮工《賴古堂印譜》探析", Xin shiji tushuguan 新世紀圖書館, 2014 (3): 81-84+87.
Wang Chongren 王崇人, ed. (2002). Zhongguo shuhua yishu cidian 中國書畫藝術辭典, Vol. Zhuanke 篆刻卷 (Xi'an: Shaanxi renmin meishu chubanshe), 153, 232.
Xie Ling 謝凌 (1999). "Zhou Lianggong ji qi Laigutang yinpu 周亮工及其賴古堂印譜", Wenshi zazhi 文史雜誌, 1999 (3): 72-74.